This is our house at 381 Medford St. #3 in Somerville. The house is at the corner of Medford and Dartmouth streets. This is a link to a navigable, zoomable map with a red "pushpin" marking the house. If you are driving, use that or some other map to figure it out yourself. If you are taking a bus, there is the 80 from Lechmere Station that stops right on Medford St; or try the 88 or 90 from Davis Sq or Sullivan Sq, or any other bus that runs on Highland Ave; get off at Sycamore St or School St and walk a few blocks down the hill and across the train tracks to Medford St (see the same map, zoomed in a little).
This is what the house looks like from the Medford Street side. That's the front door behind those two little trees.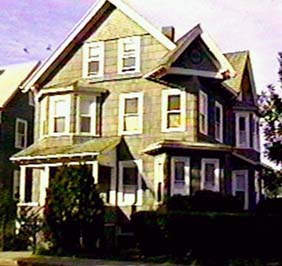 This is what the house looks like from the Dartmouth Street side. That's the back porch in the far right of the picture.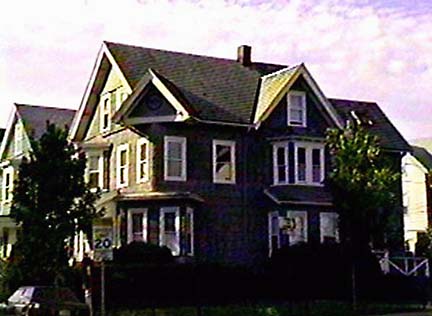 (No, nobody actually obeys the 20mph speed limit on my street. It's loud.)
This is the cool roof thingy on the corner: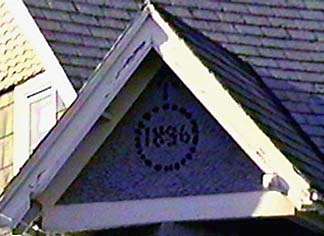 If you can't make it out, it says 1896. I guess that's when the house was built.
---
Well, so much for my house. Now you know how to go there. Don't go there. If you see a house resembling the images shown here, do not attempt to enter the house. Not responsible for lost or stolen items.
---
You know the bedroom ceiling leaks in this place? It really sucks to have a leaky ceiling in your bedroom. Tufts students upstairs shower and the light fixture in the bedroom fills with brown water. The particle-crap tiles are now spongy and disintegrating. What a pain in the ass. Well, I suppose it just goes to illustrate the recurring theme: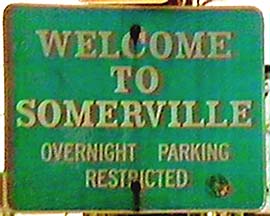 I decided I had to rant about my leaky ceiling so that anyone moved like I was today to do Web searches for "leaky ceiling" and "ceiling leaks" would have the opportunity to feel my pain.